Serving the Education Market

The Boston area has arguably the highest concentration of premier educational institutions anywhere in the world. Some of the most intelligent and influential people have studied in this area. Presidents, statesmen, world and business leaders have gotten their education in the Northeast.
From public and private K-12, Charter Schools and community and state colleges to Medical Schools and Ivy League Universities, KTS has been there with the advances of technology in education. From the beginnings of simple projectors to today's interactive smart boards to whatever tomorrow will bring, KTS is with you every step of the way to insure your investments, not only in technology but in the future of the world with the education you provide, are keeping you at the head of the pack.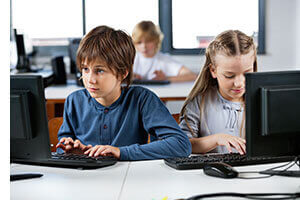 As technology advances, it is being taught at a younger and younger age. The scenario of a grandparent asking their 6 year old grandchild for help with their phone is not far off the mark. In order to be competitive in the job marketplace, our children need to be exposed to the variety of technology available today and tomorrow at an early age. It's an investment we have to make. We know. We see it in our own children. They are the leaders of tomorrow. When our designers and project managers team with their counterparts in your institution, you can be assured that your needs of today and tomorrow will be met. Contact us at 866-797-0997 to schedule a free, no obligation appointment.
With over 30 years in the industry, KTS has Registered Communication Distribution Designers (RCDDs) on staff to help you design and implement your project, project managers to manage your project and stay within budget, and finally our certified installers to install the system according to industry, as well as our own standards. Everyone one of our staff has had a background check performed on them. We've seen just about everything there is to see, from working from the ground up to renovating a Library and Media Center to deploying hundreds of access points throughout campus environments.
Contact us to discover why so many organizations count on KTS to optimize their performance, functionality and security.